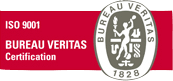 Policy and Aims in the Quality Sphere of the RUSSLAVBANK, the Clearing Center of the CONTACT system
The aim of creation and functioning of the CONTACT system is providing the competitive service for carrying out the money transfers between individuals without opening bank accounts.
Our principle: The customer is absolute for CONTACT system's clearing bank.
We work for maximum gratification of customer's wants supplied by all participants of CONTACT system and endeavor to divine all needs of our customers expanding our product range.
We are opened for establishing and sustaining mutually beneficial long-term relations with participants of CONTACT system and other counterparties.
We establish, attend to support and keep the high standards of customer service quality following the principles of Total Quality Management and requirements of quality standard ISO 9001-2008.
Our success is a result of management's leadership, orientation on customer and permanent improvement adherence of all aspects of CONTACT system's work.
Clearing bank of CONTACT system enters into commitments to follow the requirements of quality management and ISO 9001-2008 standard and also to improve permanently the performance of the quality management system applied in CONTACT system's clearing bank.